Sexual Harassment Lawyer Las Vegas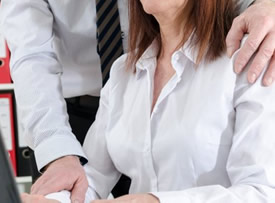 Although countless efforts have been made to increase public awareness about sexual harassment, statistics show sexual harassment is far more common than what most people perceive. This goes to show most employers are simply not doing enough to prevent sexual harassment in the workplace.
Sexual harassment is unacceptable and should by no means be tolerated. It's a serious form of gender discrimination and can take many forms, including requests for sexual favors, unwelcome sexual advances, as well as other physical or verbal conduct of sexual nature that interferes with one's work performance or creates an offensive, intimidating or hostile working environment.
Help for Victims of Sexual Harassment in Las Vegas
Categories of Sexual Harassment:
Quid Pro Quo Sexual Harassment

This form of sexual harassment occurs when an employee is harassed by a supervisor or other employee who has control over the terms of your employment, to fulfill their sexual demands in return for employee perks, such as favorable work schedules, promotions, and raises.
Hostile Work Environment

This occurs when the work environment is made uncomfortable for an individual due to verbal or written sexual slurs, comments, jokes, as well as other offensive conduct or language. A hostile work environment can also be created where unwanted touching or sexual advances occur.